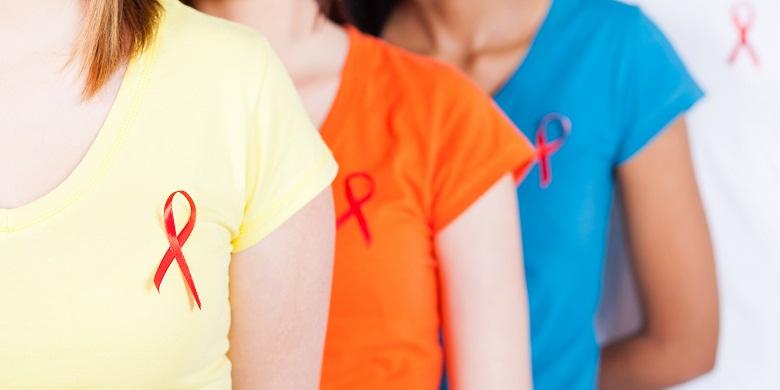 It took three years for Hani, not his real name, to decide to have children. Although HIV in his body was not detected, it remains concerned that the virus will be transmitted to the fetus. Having children and breast-feeding became very big decision.
After getting married in 2008, Hani gave birth to her first child in 2011 through a caesarean operation. Hani obstetrician when it actually allow it to natural childbirth, but her worry Hani infected. The first child was not given breast milk (ASI). Once tested, the first son Hani HIV negative.
In 2013, Hani gave birth to a second child. In contrast to the first child, Hani exclusive breastfeeding in the second child for six weeks. Baby boy was given prophylactic antiretroviral (ARV) treatment as prevention of transmission. After undergoing tests polymerase chain reaction (PCR) to determine the amount of virus in the body, the second son Hani also declared not infected with HIV.
"I do not continue breastfeeding because the medication for my child just six weeks. I'm afraid that later the longer breastfeeding my child, the risk of infection. My son then fed formula, "said Hani.
Hani knowing he was HIV positive in 2004 after taking drugs for six months, the amount of virus in the body is reduced to no longer detected. 33-year-old woman knows, with that status, the possibility of infected children is relatively small. But, still, the mind is not always in line with a conscience.
He was overcome with fear, her son will be infected with HIV. "To decide to have a child alone I think many times over the three years. Lucky family and the environment around me support, "said a member of the Indonesian Association of Positive Women, Saturday (30/8), in Jakarta.
Hani advised that pregnant women should not be afraid checked to determine whether HIV positive or not. Gratitude if the result is HIV negative. If the result is positive and known from the beginning, it was so chances started treatment.
can be prevented
HIV treatment shows the latest developments, the provision of antiretroviral drugs early in pregnancy can lower the amount of virus in the mother's body as well as to reduce the risk of infection in the mother's unborn child.
Professor of Medicine Faculty of Medicine, University of Indonesia, Prof. Samsuridjal Djauzi said, the public needs to know, this time of HIV transmission from mother to child can be prevented. Early treatment can help the mother and the baby.
Condition, all pregnant women should be tested for HIV status, whether positive or negative. It was accompanied by a test to screen for other diseases, such as hepatitis and sexually transmitted diseases.
If the result is positive, can immediately receive ARV treatment without having to wait for checks or CD4 immune. Provision of ARVs in the first trimester of pregnancy, the doctor had not recommended for fear of side effects of ARVs, can now be done because it is safe.
ARV increasingly beginning it allows the amount of virus in the body is reduced dramatically to undetectable status. "The provision of ARVs for at least four weeks of pregnancy can reduce the amount of virus in the body and significantly reduce the risk of infection to the fetus. If less than that time, is still open to the transmission, "said Samsuridjal.
In the past, further Samsuridjal, obstetrics and gynecology doctors hesitate to give ARVs in pregnant women. Therefore, they act safely with no ARV recommend, suggest surgical birth, and not recommend to mothers breast feed exclusively. This is to minimize the risk of transmission.
According to Baby Rivona, founder of Medan Aceh Partnership (MAP), in the more extreme conditions. Because of known HIV-positive, pregnant women there who are encouraged to have no children by forcibly sterilized by the hospital referral.
Actually, further Samsuridjal, if an HIV-positive pregnant women not taking antiretroviral drugs, her unborn baby's risk of HIV infection 35 percent: 7 percent during pregnancy, 15 percent when natural childbirth, and 13 percent when breastfeeding.
progress therapy
However, developments in the medical world today makes it possible for HIV-positive pregnant women to consume drugs early, normal birth, and exclusive breastfeeding. In fact, if you eat early antiretroviral drugs, the risk of HIV-infected women from their partners decreased by 96 percent.
It is dangerous even when HIV-positive mothers not exclusively breastfeeding or formula-feeding at the same time simultaneously. The risk of infection in babies are bigger.
In addition to mothers taking antiretrovirals, babies who are born too must take preventive medication for six weeks before being tested. If the result is negative, the treatment continues. At the age of four months and 18 months, the test re-done to make sure the child is HIV negative or not.
Prevention program data Mother to Child Transmission of HIV health ministry showed, from January to June 2014, of 926 infants born to HIV positive mothers, 54 infants (5.8 percent) HIV positive. Last year, of the 1,630 babies born to HIV positive mothers, as much as 5.6 percent or 91 HIV-positive infants.
"It's exciting because so many children born to HIV positive mothers are not infected and HIV negative expressed," said Samsuridjal.
Unfortunately, in the field, most pregnant women do not feel the need to undergo an HIV test. Some still think HIV testing no association with risk behavior. In fact, it has nothing to do. Housewife who just dwell in the house can get HIV from their partners.
From time to time, they become the group most at risk. They are infected from their partners who are at risk, such as injecting drug use.
cases increased
Health Minister Nafsiah Mboi said, the number of women newly infected with HIV is likely to increase. In 2013, there were 12,279 women newly infected with HIV, and most are housewives who do not behave at risk. They are infected from their partner. The previous year, there are 9,318 new infected women. As for this year, until June 2014, there were 6,528 new HIV infections in women.
HIV positive pregnant women was often times too late that he was HIV positive so treatment to prevent transmission of the virus to the baby late done. In addition, there is also the fear of undergoing HIV testing for various reasons. As a result, there are babies born HIV positive. "We are committed so that no single HIV-infected infants," said Nafsiah.
Nafsiah states, need a heightened awareness of their HIV in key populations to behave responsibly. The goal is that they do not transmit HIV to their partners.
In addition, women are also entitled to reproductive health services as a teenager. Thus, they can live healthy and give birth to healthy generation and quality.
Early detection and advances in medicine is the key to prevent HIV transmission to infants. It also gives hope for women who are HIV-positive to have a child grow up healthy.