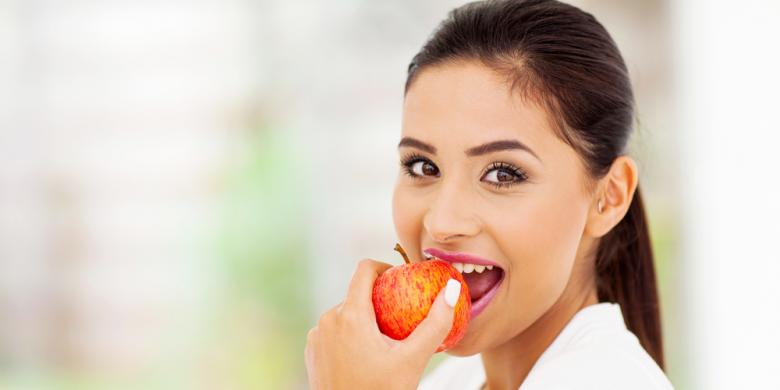 Do you always eat with full awareness of heart and mind? For the sake of health, most urbanites are now more serious in choosing foods. Of a plate of food selected, the pendulum moves to find a balance lifestyle and virtue.
Sophie Navita (38) sits dutifully at one end of the dining table. On both sides of the table, ten participants "cook" raw food (raw food) sitting lined up with him. After wrestling in the kitchen, now they are ready to eat the results of "cooking" their own.
The dining room is arranged pretty, quiet, and light in Pakubuwono Residence, Jakarta, and it makes the participants as carried away reassuring. Sophie invites all participants to enjoy a meal with a full awareness of heart and mind. Beginning with prayer and heartfelt gratitude.
"A lot of people are already involved so that food can get to our table. And, many people who can not eat like us that make us remember not to eat too much, "said Sophie, who is now a serious profession as a chef specializing in raw food preparations.
All participants were then asked to dining in silence for 15 minutes first. They ate in silence and feel every lumatan food in the mouth. Interaction with fellow participants is in the form of eye contact, a smile, or nod. Peace had enveloped the room.
"We usually often eat while doing other activities, while reply e-mail, or watching TV, right?" Said Sophie, who had attended a certified school cook at Living Light Culinary Institute in California, United States.
The menu is presented in the table that afternoon might make people wince. There was no rice. Almost everything is in the form of fresh foliage aka raw vegetables that are enjoyed with a variety of sauces that is made from nuts and seeds raw without animal ingredients and artificial flavorings. Not unexpectedly, the menu as it is able to make a satisfied stomach without struggling hungry, and was fascinated by the tongue taste fresh and delicious.
Raw food became a byword. This diet does not necessarily have to be labeled as and- form of diet, as well as a variety of trendy diets ever. "I want to find healthy because a lot of friends around me severe pain. I myself have a thyroid disorder. Since this year try changing your diet. Always eat vegetables raw vegetables or salad and a side dish of animal protein. Now I am better, "said Yuni (38), raw food cooking class participants from Bandung, West Java.
However, Sophie reminded, the popularity of raw food should not be swallowed whole. That is, the origin of all raw definitely good. For example, raw vegetable smoothie bombarded with all kinds of sweet fruits that are high in fructose.
"Not so healthy could even more pain. Moreover, for the already ill, such as diabetes or cancer has. Likewise with all the sugar substitute, should be careful. Assorted cake called raw, but overwritten all the sugar substitutes consumed in excess it remains unhealthy, "said Sophie who is also campaigning" Indonesia Eat Vegetables "since last year.
Just look at the number of social media accounts on Instagram filled various items of food and drink with #rawfood sign. The eating style diet began commodified like fashion, without actually realizing the benefits, effects, and risks of each material used, though claimed to be healthy.
Long before the term raw food pluck popularity in Indonesia, nutritionist doctor Tan Shot Yen has emphasized the importance of a healthy balanced diet in the form of good carbohydrates, proteins, and fats, and especially always include raw vegetables every day. This is because raw vegetables still contain enzymes that make vitamins, minerals, and hormones can work up to the good of the body. While more than cooked vegetables as a contributor to the fiber.
No less important, Dr Tan reiterated that the best sources of carbohydrates are raw vegetables and fresh fruit. Not rice, breads, or starchy tuber. Foodstuffs are the staple foods labeled according to Dr. Tan is more loaded than the interests of political and economic interests that are vital to the health of many people.
In his book, True Healthy Kodrati, Dr. Tan explained, insulin increased due to consumption of bad carbohydrates and sugars make bad eicosanoids hormone secretion. "It's what makes the blood vessels constrict, blood curdling, decreased immune system, triggering the growth of bacteria, viruses, fungi, cysts, tumors, and cancer," said Dr. Tan, who a few months ago completed the doctoral program at the Faculty of Medicine, University of Indonesia with a dissertation related to vegetable intake for people with type 2 diabetes.
In principle, Dr Tan stressed the importance of eating whole foods (whole foods), not the manufacturer. Diet have ancestors who did not know the results of the technology and food products factory output, according to him, the best for humans. Patients can not forever rely on drugs and did not improve diet.
Paleo-style eating
Diet latter also being loved urban people are eating Paleo style. Sarah Ballantyne PhD in his book, The Paleo Approach: Reverse Autoimmune Disease and Heal Your Body (2013), explains, Paleo approach emphasizes the need to eat as a form of consumption of nutrients to support healing. This food consists of meat, seafood, vegetables, fruits, and good fats.
In general, it is advisable to eat all the foods that are not processed, manipulated the content, or foods that are in the most natural conditions as well as the edible human ancestors. In the Paleo approach, these foods can be cooked and seasoned. However, as well as on raw food, the perpetrator does not include a Paleo-style eating rice, starch such as flour, bread, pasta, sugar, and all the food products manufacturer.
Let's look at the Paleo-style dining experience players. Since January 2014, Monique Hardjoko (37) to dismantle his lifestyle. Working mothers with two children initially struggled with weight problems after having children. Various slimming program once he jajal, but only succeeded in temporarily because his diet never really changed.
On the other hand, mother and sister Monique was diagnosed with breast cancer. Finally, the first step is to set up the menu daily Monique with awareness. He got rid of white rice and sugar, increase servings of fruits and vegetables, as well as pay attention to protein intake. "I'm probably in the category of 90 percent embraced Paleo, there are 10 percent of his cheating," said Monique.
Monique was a routine exercise. As recommended by dr Tan Shot Yen, a healthy balanced diet to follow an active lifestyle, namely exercise. Monique was still able to eat at the restaurant once in a while, of course stick with making a conscious choice, not just taste. He can eat steak meat, capcay, grilled chicken, or soup without rice rawon. "Nah apparently too miserable," said Monique.
Now he felt his body more healthy, increase stamina, not easy to get sick or exhausted. An added bonus again, her body slim. When the diet was started eight months ago, Monique weigh 77 pounds, with a height of 160 cm. Currently his weight dropped 55 pounds or 22 kilograms.
"It turns out that mindset changed, your body is able to do anything. I used to be crazy about rice, can now kepengen baseball again rice, noodles, spaghetti, or bread, "said Monique.
Another for people with diabetes as M Nasir (56). It's been 15 years he lived with the disease. All treatment is not much help. Health conditions are often poor. In one day, more than once Nasir could run out of energy, sudden weakness, and should be "helped" with something sweet. In his car, he always provides candy, apple, or brown sugar as an energy injection of emergency. Finally, Nasir find books about the Paleo diet. He also diligently studying and looking for various other references.
Now he has stopped eating rice, starches, and sugars. Various animal food: chicken, fish, beef, or goat, he consumption without dipantang parts, including the fat. However, instead of processed meat manufacturer. Intake of vegetables and fruits it multiply significantly.
As a result, stable blood sugar at normal levels and body fit, without sudden limp again. "From morning till evening my energy is stable," said the man who exercise swimming or cycling an average of four times this week.
Nasir admitted that there were times when he was tempted by the forbidden food according to the Paleo diet. However, when violated, he performs with a conscious and measurable. Enjoying rendang in large chunks, for example, simply be eaten with two tablespoons of rice.
"Endless rice so long as each of bribery, only three-four rice grains," said Nasir laugh.