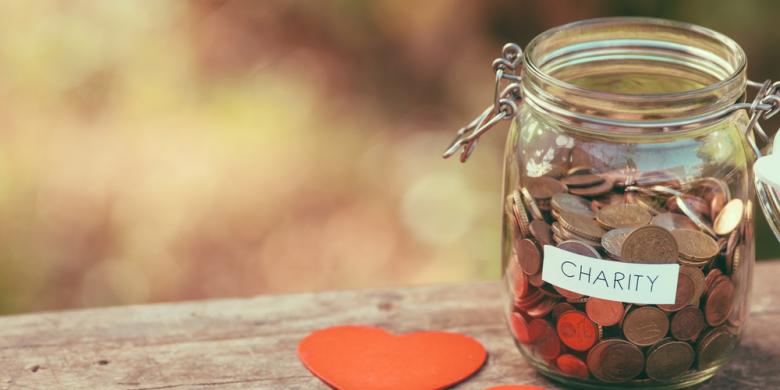 There are people who feel a sense of stress will be reduced after eating, or just feel happy if he could have the latest gadgets and vacation in the land of dreams. In fact, happiness can also be obtained by way of sharing with others.
In the Give & Take a book written by a professor Adam Grant, he explained the concept of "helping people in 100 hours". According to him, spends 100 hours a year, or an average of 5 minutes a day to help fellow humans, can cause a sense of happiness and relieve depression and stress.
Child and adolescent psychologist from the University of Indonesia, Vera Itabiliana Hadiwidjojo, saying that when we can help a person or other people happy then appear automatically happiness within ourselves.
"Man is destined as social beings, that we can not live without the other. Therefore every man has an automatic mechanism, if giving something to others will arise in feelings of pleasure and happiness. Although the response of the people just simple, "said Vera.
Feeling happy and excited to bring a positive aura in themselves. Positive aura that will relieve depression or stress experienced. Of course, the nature of the share should not expect a reward of those who give. It is also to be reminded of the children while teaching them the habit of sharing.
"Do not expect anything from those we give, let's say that we just gave, quite up there. Either response or any response given by others, we should not be sorry for what we've done, "he said.
According to data from the World Happiness Report 2013, released by the United Nations, Indonesia ranks 76 as the happiest country in the world, under Thailand (36) and Malaysia (56).
To make the Indonesian people happier by sharing and increasing concern for others, Save a Teen invite family and juvenile Indonesia became Generation Sharing. We can start with the Action 5 Minutes Ordinary Share to assist disadvantaged children who drop out of school, but has a good performance.
"We hope families and teens Indonesia will actively participate in this action. Not only the material, this action can also be done to share information taken fromSaveateen twitter account and facebook page Save a Teen World into their personal accounts, "said Imran Razy, Fourdraising Manager Putra Sampoerna Foundation.
5 Minutes Sharing action is expected to inculcate the habit of caring and empathy in children and early adolescents. Dr. Maxwell Maltz in his book Psycho Cybernetics conclude that it took a minimum of 21 days to create a new habit that will continue to stick if done consistently.
"By taking the time 5 minutes for 21 consecutive days, parents can instill the habit of sharing which then could be an important provision for children to be able to continue to share to people in sekitarnta well as live a happier life," said Vera.
Sigi Wimala, who was appointed as the Brand Ambassador for Save a Teen also revealed that the share was something very simple and not something that is difficult. Society can do it in any way.
"Teach the children to share from a simple thing but constantly and do not judge money as a benchmark. For example if there is something such toys or anything that belongs to a child who is no longer needed, then educate our children to hand something to someone who is in need. A small thing like this proved to be a success, "said Sigi.
Teach the children's behavior can be adjusted want to share with the age and stage of their rapidly developing child psychology. The key is to give children many opportunities to share. But of course, parents should set an example that share the fun.
In children, the attitude of sharing can be taught for example by encouraging children to come help with the housework such as picking up toys, toy lend it to a friend or sister, and so on.